We just heard this week that the USPS has proposed raising the price of a stamp by 6.5% to $.49. This is going to need more review than the typical increase because it is higher that the Consumer Price Index. Every time the Post Office raises their rates, we hear an outcry from the public and the mail community complaining that this is going to hurt volumes in the long run. I am going to take a contrarian view and tell you why I think this is a good thing for the health of the Post Office and for all of us.

Let's start by looking at the rates. I could not find a lot of detail published at this time about the specifics of the new rates except for a few items below. (We will provide complete rate increase tables once they are available.) When we look at the rates, it appears that the average increase will end up being in the 5% range once all classes and weights are factored in.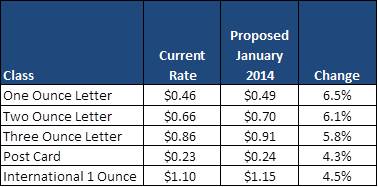 This may sound like a lot, but every year the two main private carriers raise rates by 4-6% and most do not blink an eye. On top of this, these carriers charge us fuel surcharges that never go away and increase when fuel goes up. These publically traded companies run profitable businesses and are highly regarded. We then tell our national postal system that they cannot raise their rates at comparable levels and we expect them to remain solvent.

Next, I want to look at the financial impact for the groups most affected. If you look at past rate increases, the discounted automation rates typically go up less than the single piece rates. This means that mailers that are sending large enough volumes to qualify for automation, would get a lower percentage increase than the smaller users.

Finally, we need to address the argument that this will hurt mail volumes in the future. I think that most people still see great value in a $.49 letter and comedians have even created jokes about how much we are getting for our low stamp prices. We can switch to digital alternatives, but most businesses would have already done this by now if it was possible and this increase is not going to be the" tipping point".

We need to put this rate increase into perspective by compared rates to other westernized countries throughout the world. In the May 23rd 2012 edition of The Economist, they had an article entitled "Stamp Duty" where they compared the rates of a domestic letter sized piece sent by different countries. Our prices are 26-54% less and we have the best delivery network in the world.

The bigger issue is the United States Postal Service has lost $27 Billion dollars from fiscal year 2011-2013 and major change is needed. If we do not sure up our finances, it will hurt us all in the long run because they will be forced to make more dramatic service cuts and rate increases then already proposed.
The core issue is we need to let the USPS make the changes they need to remain solvent for the long run. Currently they need approval by Congress and committees who may have political agendas instead of the postal systems best interest.

I think this type of rate increase is a battle cry where the Post Office is reaching out for help at a time that major postal reform is being pushed. This includes the following:

· Moving from a 6 to 5 day delivery schedule.
· Slowing mail delivery
· Closing production facilities
· Collection Boxes vs. home delivery for new developments
· Funding retiree benefits

I think this rate increase is way to push for their larger reform goals then it is the specifics of the rate change.
In summary we need to make sure that we are charging a fair rate for postage so we can maintain operations with declining volumes. As we all mail less, we have to expect that it is going to cost more to maintain service operations. We need to support the USPS officials who are trying to make reform to adapt to this changing environment.

Adam Lewenberg, CMDSS, MDC, is President of Postal Advocate Inc., runs the largest Mail Audit and Recovery firm in the United States. Their mission is to help entities with large numbers of locations reduce mail related expenses, recover lost postage funds, and simplify visibility and oversight. He can be reached at (617)372-6853 or adam.lewenberg@postaladvocate.com.